SPORTS BRA GUIDE
IT'S IMPORTANT TO FIND A SPORTS BRA THAT MAKES YOU FEEL SUPPORTED THROUGHOUT ALL YOUR ACTIVITIES - AND IT'S NOT A ONE SIZE FIT'S ALL APPROACH.
THAT'S WHY WE ARE HERE TO HELP
The wrong sports bra can lead to rubbing, excess bounce and pain in the back and shoulders. When your breasts are not supported correctly, it can feel like they have a mind of their own, especially during high impact activities like running, HIIT or boxing.
Many women select a sports bra based on comfort and softness, however this may lead them to choose a style which isn't supportive enough.
The formula to support is to get the fit right and choose a style that is constructed to match your level of activity.
Anatomically, the key support for breasts comes from the Coopers ligament which is the connective tissue running down the side of your breast. The ligament acts as support and tone. It can lengthen or weaken over time, especially if you are undertaking high impact activities.
When running, your breasts can move 8-10 cm in a figure 8 pattern. Choosing a properly fitted sports bra, with appropriate support, can help cut the bounce in half and with his help maintain the long-term condition of your breasts.
SPORTS BRA FACTS AND TIPS
WHY IS WEARING THE RIGHT SIZED SPORTS BRA IMPORTANT?
•Wearing the right size sports bra keeps your breasts in place during activity – helping to prevent sagging and stretching of tissue.
• A great fit maximises comfort and is non-restrictive – giving you the confidence and ability to focus on your goals and push yourself further.
• It can help to improve posture, especially if you are a larger cup size, where it can relieve strain on the back and shoulders.
OVER 70% OF WOMEN WEAR THE WRONG SIZE SPORTS BRA - WHY?
• Many women guess their size without being properly fitted by an expert.
• Their sports bras have stretched over time and no longer offer the support they
should.
• Bodies change shape regularly, so undertaking a fitting every year is important.
HOW TO ENSURE YOU'VE GOT THE RIGHT FIT
1
Our team in stores are expert fitters and can help you find the right fit.
2
If you are shopping online please grab a tape measure and use our handy size guide.
3
When you put your Sports Bra on for the first time here's how you can check the fit at home:
• Start by putting the sports bra on correctly. Lean forward and over, so that your bust falls into the cups/ front and your nipples sit in the middle of the cup. Do this before fastening any clasps.
• The sports bra should feel snug. You should feel supported, yet not constricted and you should be able to breathe comfortably.
• The underbust should be firm as this provides the main support for your breasts. If the sports bra has a hook and eye closure, it should initially be fitted on the first hook to allow adjustment over time.
• To check if it's too tight or loose: run your fingers under the underband, especially at the side of the body. You should be able to run two fingers under the band without stretching it out or being too tight.

• Straps should be firm and not dig in.
To check the fit: run your fingers along the inside of the straps from the back, up to the shoulder to feel the tension.
• All breast tissue should sit inside the sports bra and the top of the sports bra should lightly rest on your skin.
If you bulge or spill out; or the sports bra digs in under the arm we recommend trying an alternative size or support level.

• Jump around to make sure your breasts feel supported and stay in place. Lean forward and make sure everything stays in place.
IT'S ABOUT SPORTS BRA SOLUTIONS TO MATCH BODY SHAPE WITH EXERCISE ACTIVITY.
WE RECOMMEND YOU OWN A VARIETY OF SPORTS BRAS FROM DIFFERENT LEVELS OF ACTIVITY. WHEN IN DOUBT, CHOOSE A HIGHER-IMPACT BRA FOR A LOWER-IMPACT SPORT – NOT VICE VERSA.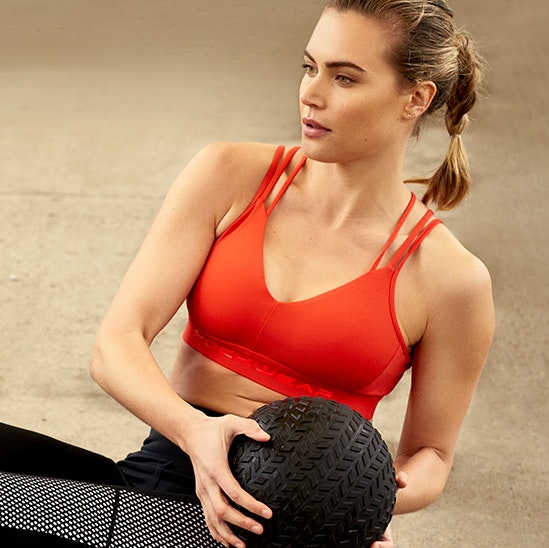 FEATURES INCLUDE:
Comfortable fit with minimal hardware.
Thinner straps and strapping detail.
Less coverage with open back detail or lower cut front.
Removable pads.
Seamless construction and super soft fabrication.
ACTIVITIES:
Yoga.
Pilates
Barre.
Walking.
Weight Training.
Studio or mat work.
MEDIUM IMPACT SPORTS BRAS
FEATURES INCLUDE:
Allows flexible movement for a wide range of activities.
Good coverage around the bust.
Elastic in the straps, arm hole and neck bind adds extra support.
Adjustable straps.
Many styles have a zip front for ease of getting on and off.
Removable pads.
ACTIVITIES
Gym.
Bootcamp.
Boxing.
Cycling.
Hiking.
Horse Riding.
FEATURES INCLUDE:
Maximum coverage across the bust.
No bounce straps, extra padding for comfort.
Adjustable underband for the perfect fit.
Non-stretch lining to reduce bounce.
Running sling for extra stability.
Maximum wicking lining fabric.
Removable pads.
Compression fit.
ACTIVITIES:
Running.
HIIT.
Aerobics.
Kick-boxing.
Field Sports.
Dance.
HOW OFTEN SHOULD I GET FITTED FOR A SPORTS BRA
As women, our bodies change quite dramatically over a lifetime; as we age and more obviously before and after pregnancy. It's important to get fitted every year to ensure you are getting the best fit and most supportive sports bra for your needs.
HOW OFTEN SHOULD I REPLACE MY SPORTS BRA?
Your sports bra should never celebrate a birthday. All that sweating and washing breaks down the bras ability to perform long term. Your sports bra is like a piece of equipment that need to change often, just like your running shoes. Keep rotating them to ensure they are long lasting.
WHAT IF I AM A LARGER CUP SIZE?
Consider a sports bra with significant adjustability to ensure comfort is achievable. Many of Many of our bras have adjustable straps to allowing you to achieve a close to perfect fit and one which can be tightened or loosened depending on the level of activity you are undertaking.
HOW TO CARE FOR YOUR BRA
To get at least one year's use out of each sports bra (approx. 50 wears) – rotate your sports bras and wash regularly.
•A good sweat session does wonders for your body but is not so friendly to your sports bra. The chemical and salt in sweat break down elastane, making it more likely to lose stability.
•Machine wash on the gentle cycle in cold water with a mild laundry powder. Do not use fabric softener as this reduces the moisture wicking performance of our fabrics.
•Be sure to zip all zips and fasten all hooks on the bra to ensure they do not catch and tear the fabric. We recommend using a wash bag to extend the life of your sports bra.
•If your bra smells throw a cap full of white vinegar in your wash to destroy that odour causing bacteria.
•To dry, always hang it up or lay it flat; dryers ruin elastic.